Best Standalone Medical Cards in Malaysia 2022
If you need a straightforward and affordable medical insurance, you may need a standalone medical card.
We often read and hear about the importance of having a health insurance coverage, backed by the fact that the cost of a medical treatment has been on the rise over the years.
Quoting Antony Lee, the Chairman of The General Association of Insurance Malaysia (PIAM), as saying: "Medical inflation has been on an upward trend with double-digit increases in recent years and is projected to reach 14% in 2019."

What does this supposed to mean? It means that getting a fever diagnosis with medicines and medical certificate at a private clinic can easily cost you more than RM100 per visit.

Unless you are settled on relying heavily to the public healthcare system, having a health insurance coverage is a necessity nowadays.

Medical insurance comes in 2 options: (1) standalone with no frills medical policy, (2) medical rider attached to a life insurance plan such as an investment-linked policy.
Standalone Medical Card versus Rider Medical Card
The most important highlight that differentiates a Standalone from Medical Rider is the premium cost; Standalone medical card is way cheaper compared to a rider for several reasons: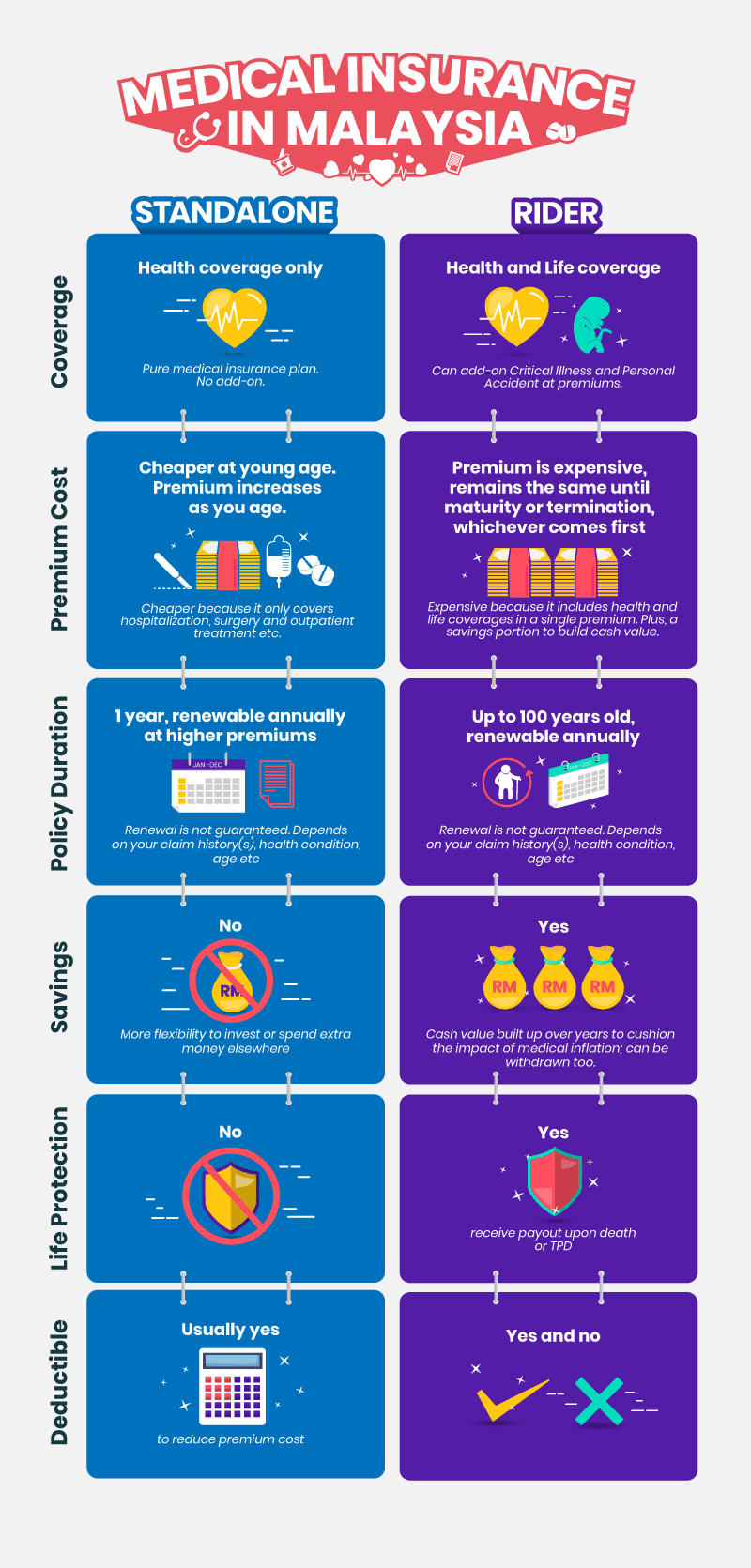 Image via RinggitPlus.com
Choosing the right medical card for yourself and/or family members requires a strategic financial planning.
If your purpose is to get covered for health only and want to save money on premiums, a standalone medical card is the right way to go.

Standalone Medical Card is cheaper

Standalone medical card is a term insurance plan that provides coverage such as hospital, surgical, outpatient and other medical benefits.

The best part about this cash-over-cover insurance plan is it is much more affordable than a rider medical card because it is a pure medical insurance plan.

We take a look at the most popular medical cards in Malaysia and try to assist you in deciding which gives you the best value.

Here is the list:
AIA Standalone Medical Card Malaysia
AIA A-Life Med Regular Medical Card
Room & Board: up to RM250
Annual Limit: up to RM150k
Lifetime Limit: Not applicable
A-Life Med Regular offers high annual limits (up to RM150,000 per insured item) and zero lifetime limits, up to age 100. It also covers post-hospitalisation treatment for up to 120 days, the longest coverage available in our comparison.

AIA A-Plus Med Medical Card
Room & Board: up to RM500
Annual Limit: up to RM260k
Lifetime Limit: No limit
While Takaful Malaysia's myClick MediCare doesn't offer the cheapest plan in Malaysia, its premiums are on the lower end. It offers better-than-average coverage (no lifetime limit, up to RM100,000 annual limit) for plans in its price range. You can also opt for a deductible plan to enjoy lower premiums.
Hong Leong Assurance MedGLOBAL IV Plus Medical Card
Annual Limit: up to RM240k
Lifetime Limit: up to RM1.2m
Room & Board: up to RM400
Coverage Age: From 1 months
No. of Panel Hospitals: 101
The HLA MedGlobal IV Plus plan covers emergency overseas treatments (subject to limitations and exclusions). It also comes with an annual limit of up to RM240,000, although it does not state its lifetime limit.
Allianz Medical Card Malaysia
Allianz MediAdvantage Medical Card
Room & Board: As Charged
Annual Limit: up to RM8m
Lifetime Limit: up to RM16m

Allianz Diabetic Essential Medical Card
Room & Board: up to RM400
Annual Limit: up to RM1.4m
Lifetime Limit: up to RM4.2m

Allianz Booster Care Medical Card
Room & Board: As Charged
Annual Limit: up to RM200k
Lifetime Limit: RM1m

Allianz Care Individual Medical Card
Room & Board: up to RM400
Annual Limit: up to RM125k
Lifetime Limit: Not applicable

Allianz MediSafe Infinite+ Medical Card
Room & Board: up to RM500
Annual Limit: up to RM2.5m
Lifetime Limit: No limit
Prudential Medical Card Malaysia
Prudential PRUValue Med Medical Card
Room & Board: up to RM600
Annual Limit: Not applicable
Lifetime Limit: Not applicable

Prudential PRUMillion Med Medical Card
Room & Board: up to RM500
Annual Limit: up to RM2m
Lifetime Limit: Not applicable

Prudential PRUsenior med Medical Card
Room & Board: from RM200
Annual Limit: Not applicable
Lifetime Limit: up to RM225k

Prudential PRUHealth Medical Card
Room & Board: up to RM600
Annual Limit: up to RM250k
Lifetime Limit: up to RM2.6m
Great Eastern Standalone Medical Card Malaysia
Great Eastern Smart Extender Max Medical Card
Room & Board: up to RM400
Annual Limit: up to RM2m
Lifetime Limit: No limit
AXA Medical Card Malaysia
AXA Affin eMedic Medical Card
Room & Board: up to RM250
Annual Limit: up to RM100k
Lifetime Limit: No limit

AXA Affin SmartCare Optimum Plus Medical Card
Room & Board: up to RM500
Annual Limit: up to RM2.1m
Lifetime Limit: Not applicable

AXA Affin SmartCare Optimum Medical Card
Room & Board: up to RM500
Annual Limit: up to RM500k
Lifetime Limit: Not applicable